Honda Activa electric scooter? Company reveals plans
Honda Motorcycle and Scooter India (HMSI), the second-largest selling two-wheeler manufacturer in the country, has reportedly started working on an electric scooter for the Indian two-wheeler market. This development is in complete sync with the fast-increasing focus on the development of electric vehicles and the requisite infrastructure.
Minoru Kato, president and CEO of HMSI, has reportedly commented that work on the development of an electric scooter is being carried out at Honda's headquarters in Japan. "Inputs are also being taken from the Indian operation," Kato told media. The HMSI CEO has added that in spite of Honda's global experience in selling electric two-wheelers, it's a 'struggle' to meet the high expectations of two-wheeler buyers in a growing market like that of India. He has further elaborated that the real challenge lies with getting the pricing, driving range, and performance right. "How do we strike the right balance here?", he asked. However, he went on to reveal that the company is planning to offer a minimum range of 100 KMs on a single charge.
On being asked about the launch timeline of the company's first electric scooter for India, he said it's currently difficult to speak of a specific time frame. He said,"Nobody knows the timeline as yet." Also, details on the upcoming Honda electric two-wheeler are scarce at the moment. Except for a 100 KMs range, Kato hasn't revealed much else about the model. However, we feel that the company could use the Activa brand to market its upcoming scooter. This would help it benefit from the really high brand valueof the Activa. HMSI launched the new Activa 5G at the Auto Expo this year. On an average, HMSI sells almost 8,000 units of Activa every day. The high popularity of Activa will likely help the company market the upcoming electric scooter better.
Honda Motorcycle and Scooter India isn't the first-ever manufacturer to start working on an India-specific two-wheeler model. The Hero group, which is the erstwhile partner of the Japanese two-wheeler giant, is also getting aggressive with its electric two-wheeler plans. Royal Enfield, the iconic retro-style motorcycle manufacturer, is also said to be looking into the electric technology. TVS Motor Co. has already tried to attract the scooter-buying lot with the Scooty Teenz electric. However, all the manufacturers are now working on an electric two-wheeler that will aim to have a high appeal across various segments of two-wheeler buyers.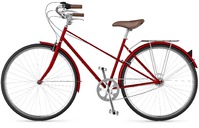 Click here and start typing. Natus error sit voluptatem accusantium doloremque laudantium totam rem aperiam eaque ipsa quae ab illo inventore veritatis et quasi architecto beatae vitae.
Quae ab illo inventore veritatis et quasi architecto beatae vitae dicta sunt explicabo nemo enim ipsam voluptatem quia voluptas sit aspernatur aut odit aut fugit sed quia consequuntur magni dolores eos qui ratione.

 

ENJOY YOUR BRAND NEW STYLISH RIDE